RAISE the Bar

 International Professional Development workshop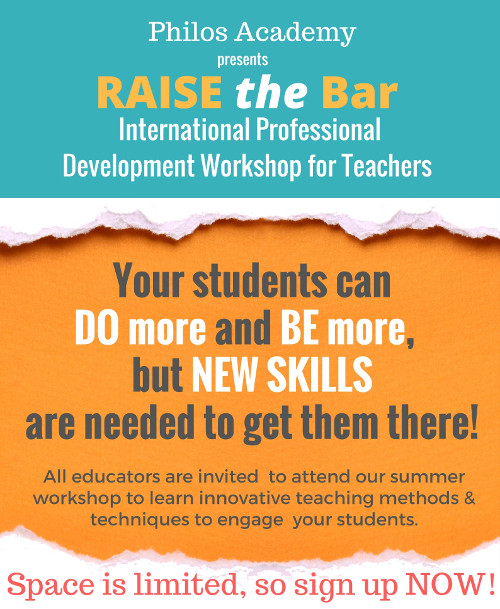 Teaching in the 21st century is not a skill; it's a mindset shift. Therefore, teacher professional development needs to be long-term and continuous in order to be effective. Our  RAISE the Bar International Professional Development workshop for school teachers is great for exposing teachers to new ideas and techniques.
The RAISE the Bar Workshop is an interactive, experiential workshop dedicated to helping teachers learn innovative teaching methods and techniques to engage their students. We work with K12 through University educators. The RAISE the Bar Workshop is geared to teachers from all over the world, creating a unique experience that combines learning, global travel, and association with peers from different nations and backgrounds.
This workshop equips educators with the tools needed to engage and focus their students to ignite their innate curiosity and imagination to foster a lifelong love of learning.
When: August 1-5, 2017
Where: The Philos Academy Campus, New York.
Presentations by Experts
During the course of the workshops, teachers will learn techniques that will:
Help you become more in tune with what your students are most interested in
Encourage the development of early independent thinking and learning skills
Get better at asking questions
Encourage collaboration in the classroom
Help with behavior management